Fitness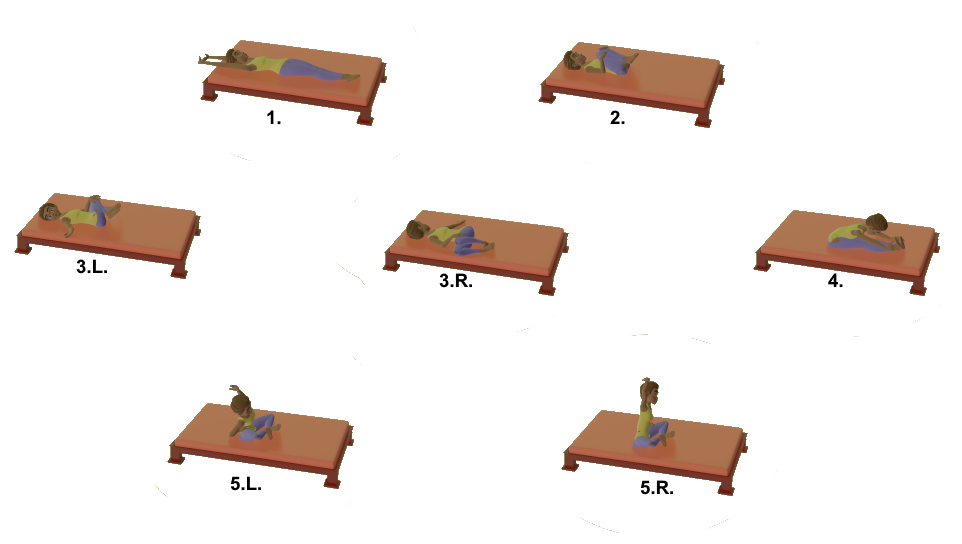 This is five very easy morning stretches that you can do right in bed. These stretches are all very gentle and a great way to help you to wake up and  energize you. 
Body stretch. Starting in a flat laying down position rich your arms overhead and push your palms upward while pointing your toes. Hold this for 5 breaths then release and relax for a moment. Repeat it two more times. This is really good for releasing any tension in the body from sleeping overnight.
From flat position move your knees to chest. Hold this for 10th breaths then release. Repeat one more time. This is good for stretching the lower back.
From Ex. 2 position gently release your knees to the left and turn your neck to the opposite side. Stretch for the 5 breaths and then pull yourself up and turn your legs on the right side and turn head to the left, hold this for 5 breaths. 
Sit up and stretch your toes, stretch your legs and band forward trying to touch your toes. Hold this for a few breaths ending as far as it is comfortable for you. You can put hands on your shins, put your head on your knees. 
Gently come up and bring yourself into a cross-legged position. Tilt to the right helping with your left hand. And then tilt to the left, helping with you right hand. Repeat this three times on each side.
Then gently get up and you are ready to go.