Description
MINI waterproof sports MP3, Bone conduction headphones and stereo music player, swimming 8GB mp3
Much louder and better sound effect;

Longer duration time for battery;
Lighter weight and much better Outlook;
Support more music files such as *.Flac, *.APE…
EQ mode added, 5 EQ modes available;
With Larger memory size upto 8GB.
Specification:
Model: iCharge WT-905
Storage:8GB
USB Connection: USB 2.0 High Speed
Speed: Read over 6.0MB/sec;Write over 4.0MB/sec
Bit Rate:32Kbps~384 Kbps(MP3), 48Kbps~192 Kbps(WMA)
Battery: High polymer lithium battery
Charge Time: About 1.5 hours. Can last about 4~5 hours after fully charged.
Max. Output: headphone 5mw×2
Music Format: *.MP3 *.WMA *.WAV*.OGG, *.APE, *.FLAC
FM Frequency: NOT supported.
Size: 142mm(L)×130mm(W)×43mm(H) Approx.
Net Weight:55g
User Instructions:
On/Off Key: For Play, Pause, Turn on & Shut down
1.       Press the key shortly to turn on the player, and jump into Play mode automaticly;
2.       When Playing the music, the LED light flash slowly; When Pause, RED light stays ON.
3.       Press the key for 3 seconds to shut down the player.
4.       The player will shut down 30 seconds automaticly, if there is no music file in the player, or after 3mins in Pause position.
EQ Mode:    5 EQ modes available.
NEXT/VOL-: Short Press for Next Song\Long Press for VOL+
PREV/VOL+: Short Press for Previous song \Long Press for VOL-
Reset:           Keep pressing the PLAY button for 8ses to reset the player.
Default Play Mode: Repeat All
LED Light Status:
When LED is staying ON after turn on the player, please check if there is any music file in it.
When the player shut down automacticly when you try to turn on it, or when you are using it, please charge the player. The LED light stays ON while charging, and will turn off after fully charged.
The LED light flash fast when download date into the player.
What you will get:
 1 X bone conduction Waterproof mp3 8GB(Black)
1 X USB cable
Tips:
What is bone conduction?
Bone conduction is where sound vibrations are transmitted directly skull and jaw bones to the inner ear (cochlea), bypassing outer and middle ears (eardrums and ossicles). People always hear some sound – especially their own voices – this way. If you ever wear earplugs, you will notice that your own voice still sounds fairly loud. This is because you hear it through bone conduction. Bone conduction is a new way of hearing that can protect your ears while enjoying sounds.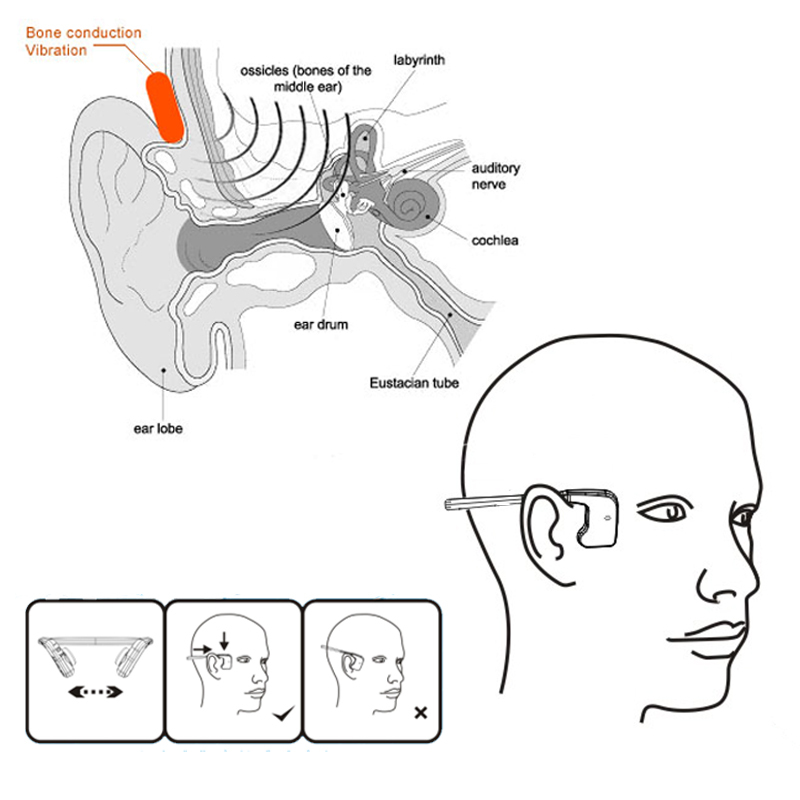 *How to wear:
Place the bone conduction vibration in front of the ears on the jawbones, with the headbnad placed behind the neck.
Advantages of the Bone Conduction System!
1. Light-weight and small size
2. Delivery of exact source of sound to the user
3. Dynamic tone and sound quality
4. Economic low-power consumption
5. Durable against external shock and breakdown
6. Protects tympanic from damage.
7. Sound is not audible to the others
Remarks:
music play in water impossible the same as play on land.
products logo label design if have change, will not make notice
Estimeted delivery time: 30-50 days.