Description
Adjustable Door Horizontal Bars for home or gym.
Horizontal Pull-up Bars are one of the best exercise tools. Using these with high intensity helps strengthen and sculpt your arms, chest, shoulders and back at the same time. This Horizontal Pull-up Bars can be used to the comfort of your own home while working out! You can do pull-ups, chin-ups, sit-ups and more!
The adjustable pull-up bar is easily installed in door frames. The weight of 60cm variant of chin-up bar is 1.5kg. You can take it with you when traveling! Mounting material protects from slipping off during your fitness training.
Made of heavy-duty chrome steel which provides great support and non-slip extra-long foam grips for extra comfort to minimize hand fatigue or pain.
Description:
Material: Steel+foram
Diameter: 30mm
Size:

60cm – total stretch length is 100cm, use length is 63-85cm, up to 100kg(220 lb)
80cm – total stretch length is 130cm, use length is 83-115cm, up to 100kg (220 lb)
Features ✔️:
Maximum Durability: The circular steel frame also comes with a weight resistance of up to 220pounds (100 kg), so you can workout without any worry.
Adjustable: The adjustable range of the pull-up bars go from 63cm to 115 cm, making it perfect for most standard sized doors.
Portable: Weighing just under 3 lbs, it can easily be carried around in your car or while traveling.
Convenient Ergonomic Design: Equipped with extra-grip foam pads, you can easily workout even more without any grip fatigue or strain. The foam also stays dry accidental slips. Sturdy Nylon washer also protects your door frame from scratches or damage.
There are 2 way to fix below. For the first variant you need not screw.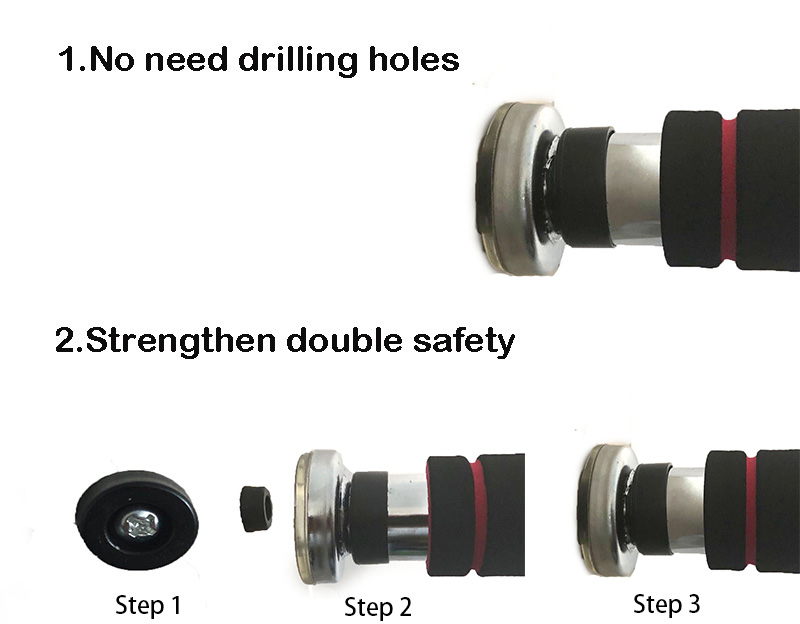 SAFETY NOTE: Each time the workout bar is used, you should cautiously apply your weight to it during the first few exercises to confirm that it is secure and will safely hold your weight.

Delivery time.
the USA:      5-14 days;
worldwide:  20-45 days.